About CBME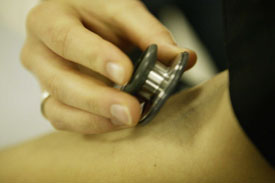 What we do
We will deliver excellent community based medical education and training to ensure doctors value all aspects of holistic healthcare in their practice.
The Community Based Medical Education (CBME) team facilitate student learning in the community. We provide:
useful information on all aspects of the community course
useful guidance on administrative tasks for staff in the community
Interested in teaching medical students?
Welcome to the homepage of the Community Based Medical Education Team. We are part of the Division of Medical Education at the University of Manchester. A large part of our role is to arrange community placements for students across all 5 years of the MB ChB programme in Manchester. We place them with GP tutors in practices across the North West as far north as Blackpool and as far south as North Wales.
We also provide tutors who deliver Clinical Debrief teaching in Year 3 and Themed Case Discussion sessions in year 4 of the programme.
Our lecturers are closely involved in the development and delivery of the MB ChB programme and involved in a wide range of research relating to Primary care.
Please feel free to browse our site and contact us if you would like any further information about the programme or if you would like to discuss playing a role in UG student education as part of the University of Manchester.
If you would like further information about any aspect of the course please contact:
Andy Conway (Quality Enhancement Coordinator)
+44 (0) 161 275 1879
andy.conway@manchester.ac.uk
Key contacts
Details of who to contact and where we are: